The Ashvale has created a menu of dishes using the finest seasonal produce and the freshest of fish and meats.  Table service throughout for food and drinks presented by our seasoned staff. Taking inspiration from our passion of cooking and giving back to the community,
comes a wide array of choices for you, OUR customer.  If nothing on the menu strikes your fancy, let us know what you have a notion for and we'll do our best to make it available to you!
Starters
---
Homemade Soup

Prepared fresh daily, served with hot bread

£4.25

Mushrooms

Deep fried in a light crispy batter, served with garlic dip

£4.85

Haggis Balls

Served with salad garnish and cranberry sauce

£4.85

Prawn Cocktail

Cold water prawns with marine rose sauce, served with brown bread

£5.25

Smoked Chowder

Smoked yellow haddock, potatoes, sweet corn and onions, finished off with double cream, served with hot bread

£4.45

Pâte

A smooth chicken liver pâté served with toast

£4.85

Breaded Scampi

Deep-fried, breaded, served with salad garnish

£4.95

Mozzarella Sticks

Served with salad and garlic dip

£4.50

Ashvale's Own

"The Ashvale Pudding Combo"

Treat yourself to a taste of white, black and haggis pudding served with garnish and cranberry sauce

£4.95
Chicken
---
Half Roast Chicken

Served plain OR why not try it in the famous Ashvale batter? - For all you big chicken eaters!

£9.25

Chicken Breast

£8.45

Chicken Fillets

in Ashvale batter, prepared fresh daily

£9.25
Burgers
2x4oz uncooked weight, served in a floury bun with chips or baked potato and coleslaw
---
Regular

£9.95

Cheeseburger

£9.95

Hawaiian Burger

With pineapple and bacon

£10.50
Salads ~ Served with chips or baked potato
---
Chicken

Slices of chicken served with mayonnaise

£9.75

Prawn

Served with Marie Rose sauce

£9.75

Poached Salmon

£9.75

Cheese & Pineapple

£8.75
Vegetarian
---
Vegetable Lasagna

Layers of pasta with a variety of vegetables

£8.95

Veggie Burger

Served in a bun with salad

£8.75

Macaroni Cheese

Homemade macaroni and cheese served with chips and garlic bread

£8.95
Baked Potatoes ~ Choice of Fillings
---
Tuna Mayonnaise

£7.75

Chicken and Coleslaw

£7.75

Prawns Marie Rose

£7.75
Our Specialty-Fish ~ Served in a light, crispy batter or in breadcrumbs if you wish
---
The Ashvale Whale

The Ashvale Whale ~ One Pound Haddock Fillet

Finish The Ashvale Whale by yourself and eat a second whale on the house! OR, claim a free sweet of your choice. Remember to ask for your Certificate of Achievement upon completing the Challenge. Take up and complete The Ashvale Challenge and see your name light up on our website www.theashvale.co.uk.

£14.50

Finish the Whale and take home the "I've tackled the Ashvale Whale - and won" mug

£2.50

Jumbo Haddock

Spoil yourself with our famous 8oz fillet

£10.95

Cod

5/6oz fillet in crispy batter

£10.45

Haddock

5/6oz fillet landed daily from inshore waters

£9.75

Lemon Sole

5/6oz fillet specially selected from local markets for the connoisseur

£13.50

Salmon

Scottish salmon fillet deep fried in our secret recipe batter

£11.50

Scampi

In either batter or crumbs selected for quality and size especially for us

£10.95

Small Haddock

4oz skinless, boneless fillet

£8.45

Jumbo Scampi

In either batter or crumbs, this is a product exclusive to the Ashvale

£14.95

Fish Cake (2)

£8.75

All fish can be poached or grilled. We buy the best quality fish from local Scottish markets everyday. We also ensure all our fish is from a responsible and sustainable source ensuring a vibrant local economy for us all.
All main courses served with chips, baked potato, boiled baby potatoes or side salad and beans, peas or mushy peas.
Under 5 years

Free Meal for those under 5 years

Haddock, Sausage or Chicken Nuggets served with chips and beans (One per adult main course bought from our main all day menu. When using one of our special menus or other offer, a charge of £1.75 will apply)
Sweets ~ Served with Cream & Ice Cream
---
Sticky Toffee Pudding

£4.95

Caramel Apple Pie

£4.95

Chocolate Fudge Cake

£4.95

Banana Split

£4.95

Millionaire Cheesecake

£4.95
Ice Cream ~ 3 Scoops
---
Vanilla

£4.75

Strawberry

£4.75

Chocolate

£4.75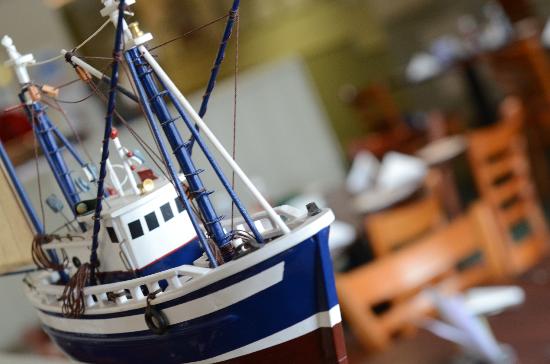 ✻